Postcode Fun Facts
SAN TA1 Postcode
Did you know that even Father Christmas has his own postcode - SAN TA1. Letters sent to this postcode DO arrive!
27m Postcodes
The combination of characters means that there are approximately 27 million postcodes in operation.
Postcode Database
Postcode data isn't free - Royal Mail licences use of the postcode database for a charge of around £4000 per year!
History of the Royal Mail
The Royal mail can trace its long history back to medieval times, when Henry VIII established a Master of the Posts in 1516.
First Royal Mail train
The first Royal Mail train ran on the Liverpool and Manchester Railway in 1830, with the first Mail coach running in 1784.
The only country...
Britain is the only country that issues stamps without the country of issue on them, and the first to issue prepaid postage stamps.
First woman Chief Executive
Royal Mail appointed its first ever woman chief executive in 2012, a Canadian called Moya green, to replace Adam Crozier.
Integration of postcodes
It took the GPO - now the Royal Mail - 15 years to introduce the alphanumeric postcodes to all areas of the United Kingdom.
London's first attempt
An early form of the modern postcode system was introduced in London from 1857, which was incorporated into the modern system.
British Forces Post Office
British Forces Post Office operates a system separate to the Royal Mail, allowing for delivery to British forces across the world.
Special postcode GIR 0AA
Girobank's HQ in Bootle, Liverpool uses its own non-geographic postcode - GIR 0AA, separating it from the standard postcode format.
Mail sorting machines
Integrated Mail Processors automatically read the postcode on mail, tranlating it into to barcodes - the inward and outward parts.
From the Postcode Area blog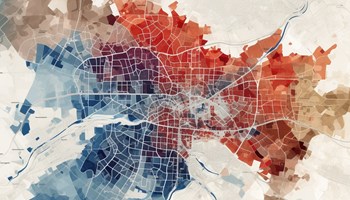 Deciphering Crime Rates - a Deep Dive Into UK Postcode Analysis
Ever wondered about the crime rate in your UK postcode? You're not alone. We've dug deep into the data, uncovering trends and patterns that'll make your head spin.
About Us
Postcode Area helps people in all areas of the UK to locate and find postcode data and information for cities and towns in England, Scotland, Northern Ireland and Wales.
Share and Share Alike
Find this information useful? Don't keep it a secret - spread the word.
© Postcode Area / CliqTo Ltd and Chris Haycock. Registered company number 7575287.
1 Brassey Road, Old Potts Way, Shrewsbury, SY3 7FA.