FAQs
Who we are?
Postcode Area is owned and operated by CliqTo Media. For more information about who we are, click here.
Where does our data come from?
The data contained on our website comes from a variety of sources, including our own datasets/research, as well as third-party sources such as open government datasets, the Land Registry, Census 2011, Office for National Statistics and the Home Office (for police/crime data).
How accurate is the data?
We've spent almost 15 years collecting the data on Postcode Area. However, from time to time information may change, such as addresses, phone numbers and website addresses for businesses. Please bear this in mind when you are using the data. Other data from official sources is known to be accurate, in particular demographic statistics that was gathered from the Census 2011. Please note that we cannot be held responsible for any data originating from third-party data sources.
How often do you update data?
Many data sources (such as house prices) are updated regularly - in some cases as much as weekly or monthly. Other data sources may not have been updated for longer periods of time. We try to tell you on the data pages how often the data was last updated.
Can I have information deleted/removed?
If you feel that a piece of data is inaccurate, or if it breaches GDPR (General Data Protection Regulations), then please get in touch with us. If the information is accurate but in the public domain (such as business details) we reserve the right to decline your request if we feel that it is in the public interest for it to remain on our website.
I need to trace someone. Can you help?
Unfortunately not. The data we collect has any private information removed prior to publishing the data. Therefore, we do not publish any individual's phone number, email address, house number or any other personally-identifiable information on our website. Should you need to trace a person and their details are publicly available on Directory Enquiries, you can use 192.com who may be able to assist.
Can I use an API for your data?
At this time we don't have a publicly available Application Programmable Interface (API) for use. However, we will be introducing an API in 2019.
From the Postcode Area blog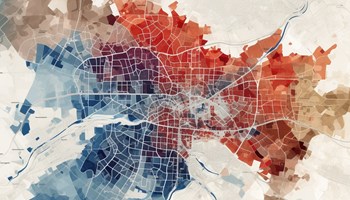 Deciphering Crime Rates - a Deep Dive Into UK Postcode Analysis
Ever wondered about the crime rate in your UK postcode? You're not alone. We've dug deep into the data, uncovering trends and patterns that'll make your head spin.
About Us
Postcode Area helps people in all areas of the UK to locate and find postcode data and information for cities and towns in England, Scotland, Northern Ireland and Wales.
Share and Share Alike
Find this information useful? Don't keep it a secret - spread the word.
© Postcode Area / CliqTo Ltd and Chris Haycock. Registered company number 7575287.
1 Brassey Road, Old Potts Way, Shrewsbury, SY3 7FA.