Privacy Policy
EU User Consent Policy
The use of personal information
Your personal data will only be used when you give your consent, and is done so in accordance with our Privacy Policy and GDPR requirements as outlined on this page.
Where we are required to do so, we have ensured that you are given the option to take affirmative action to indicate consent for your personal data to be used by us and other third parties which we make clear at the time of affirmative action.
Users are given the option to accept or refuse consent to the use of cookies and other local storage with the TermsFeed cookie consent widget, allowing you to choose your preference for consent.
Third-party vendors and interest-based ads
Other third parties and vendors may use data to for the purposes of displaying personalised adverts, and cookies may be used for personalised and non-personalised advertising on our website.
Third party vendors, including Google, use cookies to serve ads based on a user's prior visits to our website.
Google's use of the DoubleClick cookie enables it and its partners to serve ads to our visitors, based on your visit to our websites and/or other sites on the internet.
Users may opt out of the use of the DoubleClick cookie for interest-based advertising by opting out of third-party vendor's use of cookies for interest-based advertising by visiting aboutads.info or Google's Privacy & Terms site.
Our consent notice is available for access by all users from all EEA countries.
From the Postcode Area blog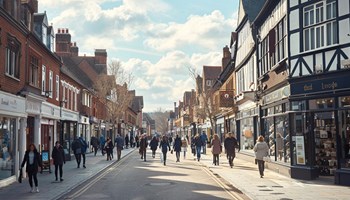 Death of the High Street?
The BBC reports that despite councils' attempts to kurb them, the UK's high streets have seen a huge growth in fast food outlets. Could this mark the death knell for the Great British high street, and what can we do about it to halt its decline?
About Us
Postcode Area helps people in all areas of the UK to locate and find postcode data and information for cities and towns in England, Scotland, Northern Ireland and Wales.
Share and Share Alike
Find this information useful? Don't keep it a secret - spread the word.
&copy Postcode Area / CliqTo Ltd and Chris Haycock. Registered company number 7575287.
1 Brassey Road, Old Potts Way, Shrewsbury, SY3 7FA.