UK Postcode Formats
Postcode Formats
UK postcodes (originally named post codes) are alphanumeric in design, with each full postcode being known as a 'postcode unit'. Each postcode corresponds to a particular quantity of physical addresses or a single delivery point in the UK.
Each postcode consists of a series of numbers and letters, being between six and eight alphanumeric characters in length, and a single space that separates the 'outward' and 'inward' sections of the postcode. They can represent either a single address, part of a street, or in some cases a whole street.
Outward codes
Outward codes (e.g. SS3) identifies the geographical postcode area, and consists of one or two alphabetical characters, for example S for Sheffield, TQ for Torquay etc. Some outward sections of the postcode represent a large geographical area, for example RH, which covers the whole of north Sussex. These first characters are then followed by one or two numerical digits to identify the postcode district within the outward code area. For example, S1, PE1, and EC2M.
Inward codes
The inward part of the postcode identifies a smaller geographical area within the outward boundary. The first character (typically a number) identifies the postcode unit, which can be a single property or group of properties.
Postcode validation
Format
Example
Coverage
A9 9AA
S1 1AA
B, E, G, L, M, N, S, W postcode areas
A99 9AA
M60 1NW
AA9 9AA
CR2 6XH
All postcode areas except B, E, G, L, M, N, S, W, WC
AA99 9AA
DN55 1PT
A9A 9AA
W1A 1HQ
E1W, N1C, N1P, W1 postcode districts
AA9A 9AA
EC1M 1BB
WC postcode area; EC1-EC4, NW1W, SE1P, SW1 postcode districts
Additional notes to take into account for the formatting of UK postcodes:
Areas with only single-digit districts: BR, FY, HA, HD, HG, HR, HS, HX, JE, LD, SM, SR, WC, WN, ZE.
Areas with only double-digit districts: AB, LL, SO.
Areas with a district '0' (zero): BL, BS, CM, CR, FY, HA, PR, SL, SS (BS is the only area to have both a district 0 and a district 10).
The following central London single-digit districts have been further divided by inserting a letter after the digit and before the space: EC1-EC4 (but not EC50), SW1, W1, WC1, WC2, and part of E1 (E1W), N1 (N1C and N1P), NW1 (NW1W) and SE1 (SE1P).
The letters QVX are not used in the first position.
The letters IJZ are not used in the second position.
The only letters to appear in the third position are ABCDEFGHJKPSTUW when the structure starts with A9A.
The only letters to appear in the fourth position are ABEHMNPRVWXY when the structure starts with AA9A.
The final two letters do not use the letters CIKMOV, so as not to resemble digits or each other when hand-written.
Post code sectors use digits from 1 to 9 followed by 0 (the Royal Mail originally sorted sector 0 after 9, treating it as the 10th not the 1st sector label).
In total, there are 29 million postcodes in operation. Postcodes can be validated against the Royal Mail Postcode Address File (PAF), listing all 29m delivery postcodes that make up much of the UK.
Source: Wikipedia
British Forces Post Office
Providing a postal service to HM Forces, the British Forces Post Office (BFPO) delivers mail in the UK and to territories across the globe. Post sent to these locations are prefixed with BFPO, followed by a space and a number that can be 1-4 digits.
Mount Pleasant Royal Mail sorting office, in Clerkenwell, London's largest sorting office.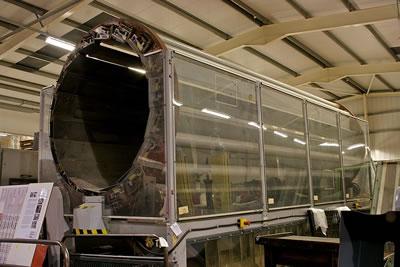 An automated Royal Mail postal sorting machine, known as the Segregator Drum, located at the British Postal Museum & Archive Museum Store. © Mike Peel
From the Postcode Area blog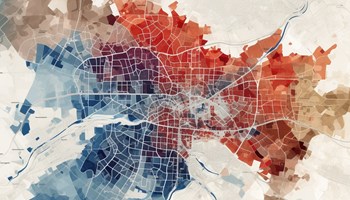 Deciphering Crime Rates - a Deep Dive Into UK Postcode Analysis
Ever wondered about the crime rate in your UK postcode? You're not alone. We've dug deep into the data, uncovering trends and patterns that'll make your head spin.
About Us
Postcode Area helps people in all areas of the UK to locate and find postcode data and information for cities and towns in England, Scotland, Northern Ireland and Wales.
Share and Share Alike
Find this information useful? Don't keep it a secret - spread the word.
© Postcode Area / CliqTo Ltd and Chris Haycock. Registered company number 7575287.
1 Brassey Road, Old Potts Way, Shrewsbury, SY3 7FA.