cardiff Postcodes
Spending a fortune on conveyancing costs?
Compare instant, low-cost online quotes from trusted conveyancing solicitors.
Backed by experts, our no-obligation service searches through the best conveyancing quotes on the market to save you time and money.
Instant quotes
No obligation
Backed by experts
Stress free
Fully compliant
GET QUOTES NOW
Contains Ordnance Survey and Royal Mail data © Crown copyright and database right.
Cardiff Outward Postcode (CF)
Click on an outward postal code below for more information about the area.
Each 'outward' postcode give you a comprehensive list of all postcodes within the outward code area (CF) and estimated address.
Click on an 'outward' code for more information. For example, the outward postcode page 'EC2M' will give you an alphabetical list covering all postcodes located in the region, from 'EC2M 1BB' through to 'EC2M 7YA'.
Glamorgan is a former administrative county of Wales and one of the thirteen historic Welsh counties. The original administrative county was made up of the Vale of Glamorgan, the industrial valleys and the Gower Peninsula and was bounded by Carmarthenshire, the Bristol Channel, Monmouthshire and Brecknockshire. However the county boroughs of Glamorgan and the administrative county were broken up and abolished on 1 April 1974; three new counties were established: South Glamorgan, Mid Glamorgan and West Glamorgan. In addition the name is still used in the county borough of Vale of Glamorgan.
Historically, Glamorgan has changed hands a number of times. Originally known as Glywysing it was fought over by Welsh princes and Norman lords before being taken over by the Normans and becoming Glamorgan. Because there was so much conflict the landscape is peppered with a wonderful concentration of old castles and ruins. By the 17th century the region had become an important part of the industrial revolution, known as 'the crucible of the Industrial Revolution,' and exploited its natural resources to the full, including a rich vein of coal. By the 18th century it had also become a tourism destination for English gentlemen on their 'grand tour' and it has been attracting visitors ever since, particularly the coastal towns of Mumbles, Aberavon, Porthcawl and Barry Island.
Nowadays most people come to see the beautiful Glamorgan Heritage Coast which runs for more than 14 miles from Porthcawl to Aberthaw and offers up stunning cliff tops, secluded coves and hiking and biking trails for all levels that showcase the towns, views and wildlife of the coast. Walking the 18 mile Glamorgan Heritage Coast trail will allow you to see some of the highlights of the whole county, from Merthyr Mawr, a charming village of thatched cottages that also features the UK's largest dune system (and a Site of Special Scientific Interest), to the eerie ruins of Candleston Castle, as well as St. Donat's Castle, a medieval castle restored by William Randolph Hearst.
The Cardiff postcode region (CF) contains 35 unique 'outward' codes. Cardiff is the main postal town/district for this region, with all postcodes starting with the following outward codes.
This page contains a list of postcodes for Cardiff area. Select a postcode to see the map location, demographics, house prices, local information, tourist guides and statistics:
---
Local demographics, guides and information
There's plenty of local information, guides and useful data to browse and explore, whether you're a Cardiff resident or a visitor to the area.
Scroll down to discover all you need to know about the Cardiff postcode area.
The CF postcode includes the following local authorities:
Bridgend
Caerphilly
Cardiff
Merthyr Tydfil
Neath Port Talbot
Newport
Powys
Rhondda Cynon Taf
The Vale of Glamorgan
From the Postcode Area blog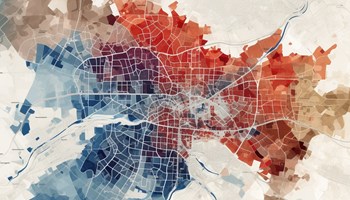 Deciphering Crime Rates - a Deep Dive Into UK Postcode Analysis
Ever wondered about the crime rate in your UK postcode? You're not alone. We've dug deep into the data, uncovering trends and patterns that'll make your head spin.
About Us
Postcode Area helps people in all areas of the UK to locate and find postcode data and information for cities and towns in England, Scotland, Northern Ireland and Wales.
Share and Share Alike
Find this information useful? Don't keep it a secret - spread the word.
© Postcode Area / CliqTo Ltd and Chris Haycock. Registered company number 7575287.
1 Brassey Road, Old Potts Way, Shrewsbury, SY3 7FA.