luton Postcodes
Spending a fortune on conveyancing costs?
Compare instant, low-cost online quotes from trusted conveyancing solicitors.
Backed by experts, our no-obligation service searches through the best conveyancing quotes on the market to save you time and money.
Instant quotes
No obligation
Backed by experts
Stress free
Fully compliant
GET QUOTES NOW
Contains Ordnance Survey and Royal Mail data © Crown copyright and database right.
Luton Outward Postcode (LU)
Click on an outward postal code below for more information about the area.
Each 'outward' postcode give you a comprehensive list of all postcodes within the outward code area (LU) and estimated address.
Click on an 'outward' code for more information. For example, the outward postcode page 'EC2M' will give you an alphabetical list covering all postcodes located in the region, from 'EC2M 1BB' through to 'EC2M 7YA'.
Amazingly, considering how much there is squeezed in, Bedfordshire is England's smallest county. Perhaps what makes it look so deceptively large are the never ending undulating green fields, cosmopolitan towns and luscious rivers.
With such beautiful and valuable farmland it is little wonder that the area has been attracting new settlers for thousands of years, since it was the homeland of the ancient British Cantvellauni Tribe. From then on it was continually occupied by either the Romans or the Anglo Saxons or Danes, and was for a while known as the Kingdom of Mercia. The region's most famous son John Bunyan began the Pilgrim's Progress in Bedford Prison and a stone marks the prison's original site. In addition there is a museum and a statue in front of the church of St Peter, as well as a meeting-house named after him. For history buffs the county also has Woburn Abbey, ancestral seat of the Dukes of Bedford, built on a medieval abbey and sitting in parklands of over 3000 acres; now of course, a famous safari park. In addition there is the house at Luton Hoo built by Robert Adam (and with gardens landscaped by Capability Brown), the 19th century 5 arch bridge over the River Ouse and hundreds of old churches scattered throughout the region.
But Bedford is really all about the landscape and the rolling Chiltern Hills and Dunstable Downs - from the undulating pastures and farms set in the River Great Ouse Valley and the vast waterway and tributaries of the river itself to forests of alder and willow and endless meadows, thatched cottages, market gardens and ancient villages such as Cardington, Bushmead and Roxton.
Bedford itself has one of the most impressive riverside settings in all of Britain looking out over the River Great Ouse from Castle Mound. Well worth a visit it is a cosmopolitan and exciting town with arts and culture festivals all year round and a number of fine museums.
The Luton postcode region (LU) contains 7 unique 'outward' codes. Luton is the main postal town/district for this region, with all postcodes starting with the following outward codes.
This page contains a list of postcodes for Luton area. Select a postcode to see the map location, demographics, house prices, local information, tourist guides and statistics:
---
Local demographics, guides and information
There's plenty of local information, guides and useful data to browse and explore, whether you're a Luton resident or a visitor to the area.
Scroll down to discover all you need to know about the Luton postcode area.
The LU postcode includes the following local authorities:
Aylesbury Vale
Central Bedfordshire
Dacorum
Luton
North Hertfordshire
St Albans
From the Postcode Area blog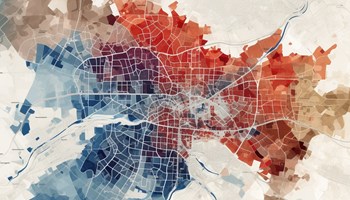 Deciphering Crime Rates - a Deep Dive Into UK Postcode Analysis
Ever wondered about the crime rate in your UK postcode? You're not alone. We've dug deep into the data, uncovering trends and patterns that'll make your head spin.
About Us
Postcode Area helps people in all areas of the UK to locate and find postcode data and information for cities and towns in England, Scotland, Northern Ireland and Wales.
Share and Share Alike
Find this information useful? Don't keep it a secret - spread the word.
© Postcode Area / CliqTo Ltd and Chris Haycock. Registered company number 7575287.
1 Brassey Road, Old Potts Way, Shrewsbury, SY3 7FA.