It'll be a happy day when we're all using cards (or our smartphones) to pay for goods.
Whilst that time is getting nearer, we still need to head down to the cashpoint to withdraw some cash. Admittedly, it still feels great having a small wad of money in the wallet.
For those times when you want to stuff your wallet and purse with some wonga, here are the locations of the nearest cash machines to NW8. Happy spending.
Useful Resources
Link
Directory of cash machines/ATMs from the UK's largest cash machine network.
Mastercard
Locate a cash machine that dispenses money using Mastercard credit cards.
Visa
Locate ATMs in the UK that dispense cash using the Visa credit card.
From the Postcode Area blog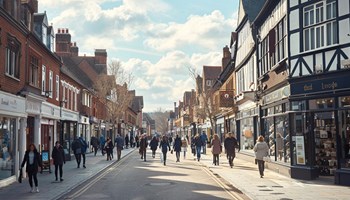 Death of the High Street?
The BBC reports that despite councils' attempts to kurb them, the UK's high streets have seen a huge growth in fast food outlets. Could this mark the death knell for the Great British high street, and what can we do about it to halt its decline?
About Us
Postcode Area helps people in all areas of the UK to locate and find postcode data and information for cities and towns in England, Scotland, Northern Ireland and Wales.
Share and Share Alike
Find this information useful? Don't keep it a secret - spread the word.
&copy Postcode Area / CliqTo Ltd. Registered company number 7575287.
1 Brassey Road, Old Potts Way, Shrewsbury, SY3 7FA.